Here at our Cornelius dental office, patients rely on Dr. Emerson Rowley to deliver the very best in dental health care. A genuinely compassionate dentist, Dr. Rowley's personal and professional philosophies are one and the same: Care for others as you would like to be cared for. Dr. Rowley does just this every day.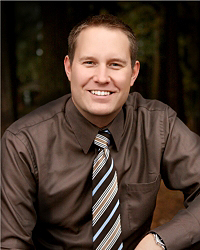 Since graduating, Dr. Rowley continues to pursue his passion for dentistry by participating in ongoing educational studies and seminars. He is currently professionally involved with the 49th Parallel Study Club for Implant Placement, the Spears Study Club, and the International Team for Implantology.
Dr. Rowley believes that everyone should have access to a healthy, brilliant smile and has a history of providing dental care to the underprivileged living in areas without access to proper dental care. Not only did he provide care in a community health center while living in Arizona, but he has also made multiple trips beyond domestic borders into the Dominican Republic, where he offered dental assistance to people living in remote areas of the country. Dr. Rowley has also volunteered with the Boy Scouts and sponsored sports teams and charitable organizations in our local community.
Years ago, Dr. Rowley returned to his beloved Northwest to provide patient dental services in Cornelius and the surrounding areas. When he's not working, he and his wife, Erin, enjoy spending time with their children.